Egg shells into 'plastic' study for Leicester academics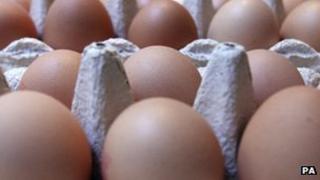 A study looking at ways of producing a partial replacement for plastic from egg shells is to be carried out by University of Leicester researchers.
Those behind the research said they wanted to find ways of transforming the shells into material which could be used in food packaging.
Egg shells are currently regarded as waste by food producers who have to pay to dispose of them in landfill.
The study is being funded by a regional food and drink innovation organisation.
Scientists from the university's chemistry department said the research would examine how glycosaminoglycans found in shells could be added to different grades of plastic to "bulk it out".
'Highly sophisticated'
A £20,000 contribution to the project is being made by the Food and Drink iNet, an East Midlands consortium which aims to fuel innovation among the region's food producers.
The ultimate goal is for recycled shell to be used in protective packaging for eggs.
The consortium's director Richard Worrall said: "Egg shell is classified as a waste material by the food industry but is in fact a highly-sophisticated composite.
"This project could have potential benefit on many levels, both for food manufacturers and a much wider industry."