Market Harborough hospital unit was £900,000 over budget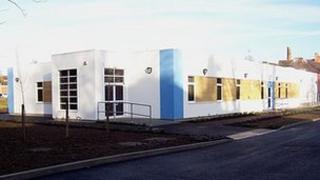 The construction of a new unit at a Leicestershire hospital cost the NHS almost £900,000 more than expected.
Work at the Day Case Unit at St Luke's Hospital, in Market Harborough, was unfinished because the contract of its original supplier was terminated.
Leicester, Leicestershire and Rutland Primary Care Trust said it had to pay another company £881,000 over the £2.3m budget to complete the job.
A district councillor said the unit was "under-used" and "overspent".
'No impact on services'
During construction the unit, which opened in January after an 18-month delay, faced a number of major delays.
Sue Bishop, director of finance at the PCT, said: "Work by the main contractor Modcon UK Ltd took longer than we anticipated, we had problems with them, so we terminated their contract.
"Because it was important to us that the work was finished we paid for the extra cost of getting the work finished."
Ms Bishop said as a result of the overspend the trust would need to reprioritise any future work, but the financial loss would not have an impact on services.
"Something that we might have spent money on in April or May would now have to wait a few months or (until) next year," she said.
She added that some of the extra money spent on the unit, which would carry out tests, scans and minor operations, went towards additional work not accounted for in the original budget.
Harborough district councillor Phil Knowles said: "It was so badly delayed and if they had done the job properly the unit would have people queuing up to use the much needed facility, but it's very much under-used.
"We were warning that it was going to be hundreds of thousands of pounds over budget, but all we were told by the PCT (was) that it would be a few tens of thousands of pounds."