London 2012: Olympics trial for Leicester university pollution system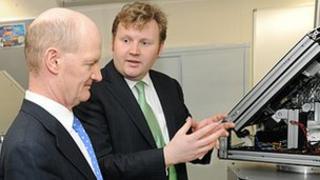 An advanced pollution monitoring system invented at the University of Leicester will get a trial at the 2012 Olympics.
By placing the CityScan technology at various points in a city, its inventors say they can create a precise map showing air quality anywhere.
The developers said it went beyond existing systems that can only measure pollution at fixed points.
CityScan is undergoing final testing but will be used at the Olympics to assess the impact of extra traffic.
It is hoped the technology could one day help with environmental planning.
'Very accurate'
The development team, from the university's earth observation science group, said the technology worked by analysing the way chemicals in the atmosphere scatter sunlight.
Sensors will be placed at buildings in north Kensington, Chelsea and a third location which has yet to be decided.
As well as providing overall readings they will reveal the dates and times when pollution peaks.
Dr Roland Leigh, who led the development team, said: "We will be able to map the pollution in 3D to show emissions of nitrogen dioxide and how far they spread.
"Traditional sensors take in a single point measurement, giving a very accurate measurement that might be by a roadside.
"Two or three CityScan instruments can map out a complete urban area and tell you where the carbon dioxide is in that space."
The team hopes its findings could help councils around the country improve environmental planning and traffic management.