Engelbert Humperdinck all set to leave for Eurovision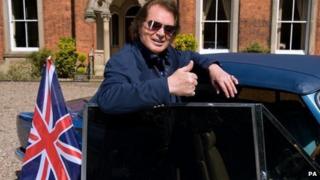 Engelbert Humperdinck has his passport ready as he prepares to leave his Leicestershire home bound for the Eurovision Song Contest in Azerbaijan.
The 76-year-old singer lives in a house with its own pub and a Rolls Royce bearing his initials parked in the drive.
The singer, who was born in India, moved to Leicester when he was 10.
He said he had never been to Azerbaijan but was hopeful of winning the competition for the United Kingdom.
Speaking at his home, Humperdinck said: "I haven't been to Baku before, I'm looking forward to it. I've seen a film about it and it looks and sounds very exciting.
"It's a new place for me and any place that's new is great," he said.
Humperdinck will represent the UK with a ballad called Love Will Set You Free.
"It's not a talent competition, it's a song contest and because of my experience of travelling around the world and being an ambassador for my country, I think it stands a good chance," he said.
The song was written by Grammy award-winning producer Martin Terefe and Ivor Novello winner Sacha Skarbek, who co-wrote James Blunt's You're Beautiful and Lana Del Rey's Born To Die.
Best known for his number one hits Release Me and The Last Waltz, Humperdinck said the secret of a good love song was to have a great melody, storyline and longevity.
"I think this one really has it," he said.
The 57th annual Eurovision Song Contest will be held in Baku, Azerbaijan on 26 May.