Rutland explorer Sarah Outen to abandon North Pacific Ocean record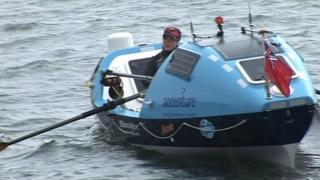 British adventurer Sarah Outen is set to abandon her world record solo row across the North Pacific Ocean after being caught in a tropical storm.
The 26-year-old Rutland explorer, who was attempting to be the first woman to row 4,500 miles from Japan to Canada, is due to be rescued by boat on Friday.
Ms Outen's boat Gulliver has been damaged after rolling several times, but she is safe and well.
The record was part of her 20,000-mile around-the-world solo expedition.
'Anticipated fear'
Ms Outen, who is about 500 miles off the coast of Japan and has been at sea for 26 days, made an emergency call to the Japanese Coastguard.
A plane was sent to assess the situation and would remain overhead to monitor Ms Outen, her team said.
The adventurer is wearing a safety helmet and is strapped in her cabin on her boat.
Her team said she was in "good spirits" while awaiting for the coastguards to bring her back to Japan.
Ms Outen, who had prepared for difficult situations before she began her world challenge, said in her blog that she was waiting for the storm to hit.
"Gulliver and I are getting ready to take a beating... a weird mix of adrenaline, calm and anticipated fear," she said.
"I have spent today preparing for it, physically and mentally. I have been pulling extra food into the cabin, making extra water and tidying up and tying things down.
"Worst case scenario is that we get utterly mashed and become fish food."
Ms Outen, who has a fear of deep water, had said the North Pacific Ocean was the "most gruelling part of my whole expedition".
If completed, she would become the first woman to row solo, which could take up to 200 days at sea, from Choshi to Vancouver.
Her team said it was premature to conclude what it would mean for the adventurer's epic journey.
Since April 2011, Ms Outen has been following a route across land and sea travelling only by kayak, bicycle and rowing boat during her "London2London: via the World" solo expedition.
Last November, Ms Outen arrived in Japan after cycling more than 10,000 miles through 10 countries and rowing 1,000 miles to Tokyo.