Leicester Gypsy site review highlights new location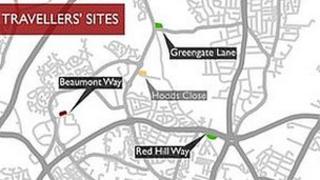 A review of traveller and Gypsy sites in Leicester has indicated one of the three proposed sites being changed.
City council officers had named locations in Greengate Lane, Beaumont Way and Red Hill Way as suitable but faced strong opposition from residents.
A commission has now rejected Beaumont Way as too small but identified Hoods Close off Thurcaston Road as suitable.
The city council said the report will be considered as part its consultation on sites, which ends on 13 July.
The council had been looking for new permanent sites for travellers since the existing site at Meynells Gorse became full.
'No alternative'
The three original sites were revealed in February, prompting protests from residents.
People complained they would have an adverse impact on neighbourhoods and all were in the same part of the city.
Commission members visited a number of sites and gathered evidence from interested parties.
Councillor Sue Waddington, who led the review, said: "I also recommend that if future sites are required in the city these be located outside the Beaumont Leys and Abbey wards.
"There is no other suitable land for sites currently owned by the city council which is available for use in the next two years, so advance planning will be required to use council land or acquire land for sites over a longer period of time."
The report also recommended future consultation about such sites should involve both the settled and travelling communities "in order to develop better understanding between communities".