Noise concern at proposed Leicestershire transport hub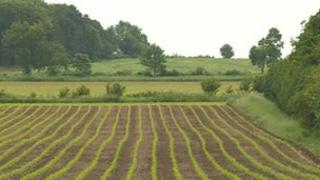 Some Leicestershire villagers have raised noise and traffic concerns over a government proposal to develop a transport hub.
The plan for a 250-acre interchange on green-belt land near East Midlands Airport is still in its early stages.
North West Leicestershire MP Andrew Bridgen said the project would create up to 6,000 jobs.
Farmer Martin Whetton, of Lockington, said: "This is totally unspoilt hamlet and it will be totally destroyed."
The freight interchange would help move goods from the airport to other areas of the country by rail and then lorry.
Shaun Ambrose-Jones, a parish councillor from Castle Donington, said the development would be "a nightmare" for local residents.
'Busiest night freight'
"Earth mounds will be used to screen the development from the neighbourhood but it could be extremely noisy and will operate 24 hours a day.
"We already have one of the busiest night freight airports in the country.
"I think more work needs to be done to find a more suitable location."
Mr Bridgen, a Conservative MP, said the area was "one of very few suitable sites for this in the East Midlands".
He said the project had not been submitted for planning approval yet and meetings were planned with local residents.
"Looking at the economic situation - it would be a £500m investment in area and could create 6,000 jobs - it would be irresponsible of me not to talk to a developer about this."