David Wilson gives £500,000 to Leicester heart research centre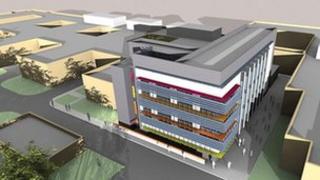 A Leicestershire businessman has donated £500,000 to help equip a new heart research centre at Glenfield Hospital in Leicester.
David Wilson, who founded David Wilson Homes, will have a biobank at the new £12.6m centre named after him.
The biobank will be equipped with robotic equipment capable of storing biological samples from 100,000 people.
Mr Wilson said the donation would support "world leading cardiovascular research" at the centre.
Advanced links
He said he hoped the donation would "help improve the health and life expectations" of both local people and others worldwide.
In 2011, the University of Leicester invested £4m in the project and the University Hospitals of Leicester Trust provided the site.
The project's goal of raising £1m from the private sector to help supply equipment for the centre has now been reached.
Professor Nilesh Samani, cardiology professor at the University of Leicester, said: "The Cardiovascular Research Centre will be transformational, effectively double the amount of high quality laboratory and academic space and house a range of specialist equipment.
He said the centre would "ultimately benefit the thousands of families and patients whose lives have been affected by cardiovascular disease".
The centre will use anonymous data from patients for research and include advanced IT links between the university and the hospital.
The £500,000 donation comes from the David Wilson Foundation, which supports a variety of causes, including training for young people and educational projects.
The research centre is expected to open later in 2012.