Wife's tribute to murder victim Ponnuthurai Nimalaraja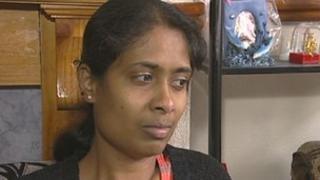 The wife of a Leicester shop worker who died after being attacked in the street has paid tribute to the father-of-two.
Ponnuthurai Nimalaraja, 41, died in hospital after being punched to the ground during an altercation with children who had caused trouble.
Six boys and a girl, aged between 13 and 15, were arrested and bailed over the attack, on 9 June in Northfields.
His wife, Mathanika, said her husband, who died a week after the attack, was a "good man" who "loved to work hard".
Mr Nimalaraja, known to family and friends as Nimal, was assaulted at the junction of Gypsy Lane and Northfield Road shortly after 23:00 BST.
Mrs Nimalaraja said: "He passed away on Saturday. The following day was Father's Day and our son was crying because his father was no more.
'Shop nuisance'
"He was a good man, always laughing. He loved playing with his kids and he was working all the time.
"My son had an exam on the Monday. He told me he didn't want to do it because if he was writing he wouldn't be able to think about his dad."
Police have launched a murder investigation and are appealing for witnesses to the attack or the events leading up to it.
Det Ch Insp Matt Hewson said: "Nimal was working in the shop when, just before closing time, a number of youths entered the shop and caused a general nuisance.
"We believe that group then moved across Gypsy Lane onto the junction with Northfield Road.
"Nimal helped close the shop and then walked across to that group and at some stage was confronted by the youths.
"We believe he was punched by one of those youths and he's fallen backwards and hit his head.
"He was a loving family man who leaves two fantastic children who miss him greatly."