Leicester Glenfield Hospital child heart surgery unit to close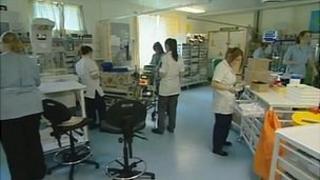 A specialist children's heart surgery unit at a Leicester hospital is to close due to reorganisation of national services, it has been announced.
The East Midlands Congenital Heart Centre at Glenfield Hospital was one of 10 under review in a move to focus expertise in fewer locations.
The unit will stop surgery but will remain open to diagnose patients, monitoring and non-surgical treatment.
A petition to save it attracted more than 100,000 signatures.
'Upset and disappointed'
Consultant Giles Peek, head of the unit, who came immediately out of surgery to hear the news, said he was shocked at the outcome.
"We had to do an operation on a small baby, who we retrieved on ECMO, and then had support with the heart and ECMO units, it's exactly the services which the government has decided to move," he said.
"Everyone is very upset and disappointed that they don't seem to have listened to 60% of the public in the whole country in six out of 10 regions that have supported us."
The centre, which conducts about 230 operations on children and 70 on adults each year, has the UK's largest ECMO unit (a form of partial cardiopulmonary bypass) which oxygenates blood of critically ill patients.
It serves a population of about five million, with the next nearest similar unit in Birmingham, 40 miles (64.4km) away.
Mr Peak said they had been "planning for success" by expanding capacity in the intensive care unit and ward as well as recruiting more specialist staff.
"There are four units which provide ECMO and we are the largest," he said.
'Risk to the country'
"There seems to be an increasing need for children to be treated - our workload has gone up by 30% this year already, it is amazingly busy.
"That is the risk to the country. The surgery is important, it is our bread and butter but the ECMO is nationally important."
John Rigby, from the charity Heartlink, led the fight to save the unit.
"My daughter was treated at the ECMO unit and without it we would have lost her, so I have a strong emotional attachment," he said.
"We have had tremendous support from people of Leicestershire and the East Midlands.
"Everybody has a good experience of Glenfield, nobody has a bad word for it and the service there is unique to any other hospital I know, it is very personal."
He added: "Heartlink has provided Glenfield with parents' accommodation, a helicopter pad, a quiet garden - the facilities are excellent. They would be difficult to replicate elsewhere."