Angry crow attacks Leicester mirror sculpture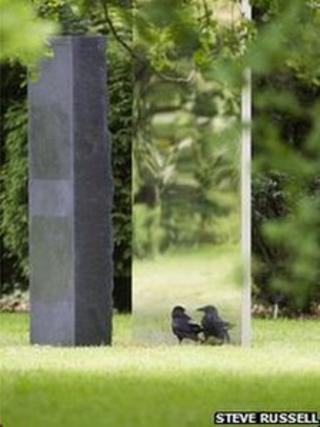 An angry crow "enraged by its own reflection" has been repeatedly attacking a mirror sculpture at Leicester University.
The 7ft steel artwork is part of the Sculpture in the Garden exhibition at Harold Martin Botanic Garden.
Gardening staff reported the attacks happening on a daily basis, usually in the morning.
Organisers said scratches began appearing on the sculpture within a day of the exhibition starting.
Sixteen other sculptures in the exhibition remain unscathed.
Almuth Tebbenhoff, the exhibition's curator, said: "What the bird saw was its own aggression reflected back and took it for something coming from the outside.
"As its fury escalated it saw its reflection and became more and more aggressive.
"Isn't this how wars start?"
Chaffinch incident
Ian Hayward, from the RSPB, said crows are highly territorial and will attack windows and other reflective surfaces if they feel threatened.
He said it was likely the crow was one of a nesting pair "trying to hold on to its patch from rival intruders", or a new bird, looking to take control of its first territory.
Crows, like most other birds, do not recognise their own reflection, he said.
The artwork's creator Simon Hitchens, from Somerset, said: "There was one incident with a chaffinch when I showed the piece last summer, but never anything like this.
He said he had considered removing the sculpture after hearing about the damage, but then decided to run with it, saying it added an "unexpected element".
"I suppose the sight of birds interacting with the sculpture allows us another insight into what the work is about - confronting our demons, life and death," he said.
The artwork, called In the Eye of the Beholder, has now been cleaned and will remain in the botanic garden for the next four months.