Fire at Leicester's former Donisthorpe and Co factory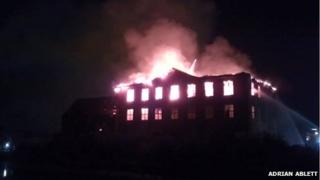 A former factory which is one of the oldest in Leicester has been severely damaged in a fire.
The former Donisthorpe and Co building in the Bath Lane area, became increasingly run down after a planned development stalled.
Several members of public raised the alarm after about 22:45 BST on Sunday. Firefighters are still at the site damping down.
They have not yet determined how it started but police have been informed.
Adrian Ablett, who lives nearby, was collecting cans near the site at about 21:45 BST and returned there when he saw smoke.
"I could see this plume of smoke, orange glowing smoke," said Mr Ablett, who is known as the Canman for his voluntary work collecting and recycling cans.
"I was standing there last night and I was gutted. It's one of the oldest industrial factories in Leicester.
'Lots of history'
"The whole of the roof has gone. It looks pretty bad.
"We've got a building that's got lots of history and it's pretty much a gutted shell."
Mr Ablett had previously complained to Leicester City Council that the site was not secured sufficiently.
He said people have repeatedly trespassed there and there had previously been fires on other parts of the site.
"I knew that building was going to go up at any point. It was only a matter of time before it took place."