Boys hurt in Abbey Park fairground ride fall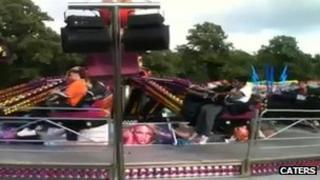 Two teenage boys were hurt after a fairground ride they were on broke, trapping one boy and throwing the other onto the ground.
The boys were injured while on the Mega Bounce Frog Ride, at the Billy Bates fair in Abbey Park on Saturday.
One of the boys was in intensive care after surgery for chest injuries, broken ribs and a broken arm. The other had less serious injuries.
The Health and Safety Executive said an investigation had begun.
One of the carriages on the ride flipped over, throwing one of the boys into a metal barrier the other was trapped inside as it landed face down.
'Shocking' situation
Fairground owner Kennedy Bates said: "Everyone went into shock. I don't think anything can prepare you for what we did see and what happened.
"Within a few seconds of it happening, we adapted and did what we were supposed to do.
"I'm happy with the care that the boys did receive while they were here. We then stepped back and let the paramedics take control of the situation," he said.
The fairground, operated by Leicester firm Billy Bates, was closed immediately after the accident on Saturday and did not reopen until Monday lunchtime.
The ride itself, which was operated by a subcontractor, was dismantled on Saturday and will be re-erected at a depot to determine what caused it to fail.
Mr Bates added: "We operate these rides day in day out, this is what we do and over the course of 50 years we have rode millions of people.
"This has never happened before. "