Harvey Weinstein praises Leicester Curve over musical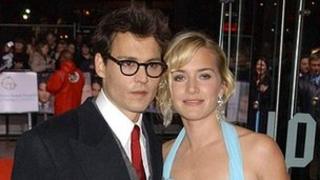 A Hollywood producer said he chose Leicester's Curve theatre to premiere his latest musical because of the staff, audiences and facilities.
Harvey Weinstein brought films like Shakespeare in Love, The Artist and The English Patient to the screen.
Now he is behind a stage version of Finding Neverland, which tells the story of the writing of Peter Pan.
Mr Weinstein said few venues outside the West End could meet the technical demands of the £1m set.
The 2004 movie of Finding Neverland starred Johnny Depp as Peter Pan author JM Barrie and Kate Winslet as the mother of the children who inspired him.
'Can-do attitude'
Mr Weinstein said the "magical" story translated well to a musical but made big demands of a theatre.
He said: "Leicester has unique technical abilities, I have friends who live there and it is 55 minutes from London and it is just a perfect opportunity for a world premiere.
"I loved the staff, I met the team at Leicester and thought 'this is great' and I know the surrounding area.
"It's a great place to evolve the show with the Leicester audiences which, friends of mine who have done shows there say, are incomparable."
Curve's chief executive Fiona Allan said she felt a visit by Mr Weinstein had helped him choose.
"I think he was impressed by our can-do attitude, that every question he threw at us we could answer. We said 'we can manage that, we can fix that for you'.
"As a producing theatre, this is our business, this is what we do, we create new work too, so to come to premiere your new show at Curve, you are in very safe hands."
Finding Neverland will open at Curve in September.