Council parking bays criticised in Leicester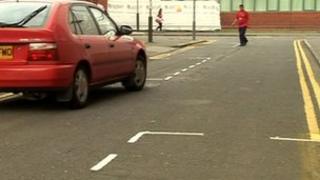 New parking bays on a one-way street in Leicester have been criticised by staff at a nearby university.
Leicester City Council had painted the spaces on both sides of the one-way Gosling Street leaving no room for vehicles to get through.
It said it had now fixed the problem, but the pay-and-display bays will remain.
De Montfort University said it still wanted them to be scrapped as vehicles have found them hard to get around.
Colleen Thorneycroft, a manager at the university, said: "I was totally shocked. There are other means of slowing down traffic on one-way streets such as speed cushions which would be far safer."