Leicester maths whizz Yasha Asley, 10, aces A-levels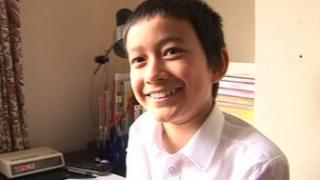 A 10-year-old Leicester boy with "a brain like a calculator" has scored a top grade at A-level for a second time.
Yasha Asley, whose A* in statistics this year follows an A* in maths and A in pure maths two years ago, can solve complicated equations in a few minutes.
The fresh-faced mathematician, who goes to Folville Junior School in Braunstone three days a week, is tutored at Leicester University.
Now Yasha says he is hoping to enrol on a university course.
The decision to put him in for the exams came after he showed an amazing aptitude for numbers from an early age.
'Pleased and proud'
Yasha said he did not have to put much work into revision and felt no nerves before his latest exam.
He said: "I opened it, looked at the first question and just started writing.
"I didn't feel nervous. I probably felt better than the other teenagers."
His father, Moussa Asley, said: "It just confirmed my expectation. I felt very pleased and very proud.
"He doesn't work that hard at all - he just does the minimum. He was born with a talent."
Yasha, who has not yet decided what he wants to do when he is older, said he now hoped to find a university that would let him enrol in a maths course.