Fungus-hit ash trees at Birstall Park and Ride destroyed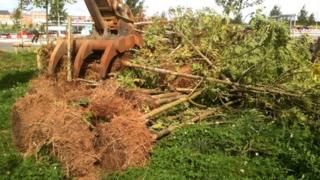 Almost 500 ash trees recently planted in Leicestershire are being destroyed after becoming infected with a fungus.
In June, a Leicestershire County Council officer noticed that some of the leaves on the trees at Birstall Park and Ride were wilting and dying.
The 484 trees have Chalara dieback of ash, an aggressive disease caused by the fungus Chalara fraxinea.
The trees had been supplied by a Lincolnshire nursery. The disease has caused loss of ash trees across Europe.
'No impact on humans'
Lesley Pendleton, county council cabinet member for environment and transport, said a team of experts were tackling the problem.
"We want to reassure people that this disease has no impact on humans or animals," she said.
"The operation of the park and ride will be unaffected. Sadly the trees will have to be destroyed on site but this is necessary to prevent the disease from spreading.
"We have taken advice on the disposal of the trees, which will be replaced."
John Morgan, head of plant health at the Forestry Commission, said: "It's quite widespread in northern Europe.
"But this is only the first findings that we've had in this country and now inspectors are on alert."
Mr Morgan is encouraging professionals to check on the health of recently planted ash trees and notify any symptoms of Chalara dieback of ash to them.
The commission and the Food & Environment Research Agency are investigating the source of the disease.