Silver Street Arcade in Leicester 'open for Christmas'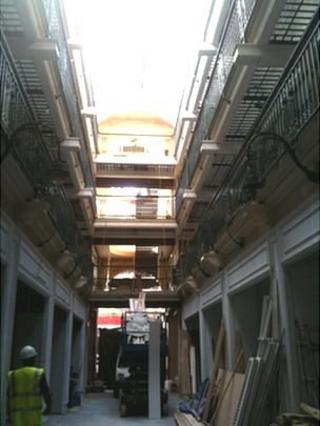 A unique Victorian shopping arcade in Leicester should be reopened in time for Christmas, developers have said.
The grade II listed Silver Street Arcade has been undergoing a £3m restoration since 2010.
Believed to be the only four-storey Victorian arcade in the UK, it suffered a gradual loss of tenants before closing.
Now both developers and city manager are optimistic the project will bring businesses back to the area.
Developers said there was a lot of interest and they would try to favour smaller, independent retailers.
Caroline Simpson-Watkinson, from Harborough London Ltd, the agents behind the scheme, said: "The refurb has been an expensive one but that is not going to be reflected in the rents.
"The sort of businesses we want are going to expect fair rents and we want businesses which complement each other, so the rents will not be more than other nearby."
Its listed status means the main structure of the building has been retained but a lift has been installed, units made more flexible and main interior given more light.
City centre director Sarah Harrison said: "This will be a destination. People will seek it out and this will help the other arcades as well.
"I think what the developers have done is very clever, to keep the character of the building while making it more flexible and attractive to all retailers."