Fake designer sunglasses to be used as horse bedding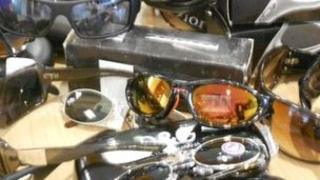 Fake designer sunglasses seized in Leicestershire and worth about £60,000 are set to be shredded and used for horse bedding.
Leicestershire County Council's Trading Standards officers seized around 480 counterfeit brands from markets and car boot sales across the county.
It said recycling them into the animal product was an unusual method of disposal but the safest place for them.
The sunglasses all failed to meet safety requirements.
Keith Regan, from trading standards, said the sunglasses will be given to a company free of charge to be manufactured into bedding.
He said: "It is an unusual method but it's about getting goodness out of them instead of using a virgin, natural product."