Boxing champ Scott King to raises funds for cancer centre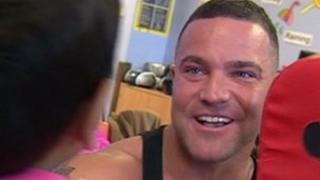 A boxing champion has been raising money for a new £1.4m children's cancer unit at the Leicester Royal Infirmary.
Scott King, who holds the EBF Midlands belt, has invited people to join him on his training route in Blaby, at a fundraising day on 28 October.
He hoped it would help fetch £150,000 needed for the Our Space appeal, run by Leicester Hospitals charity.
The heavyweight, who has friends and family affected by cancer, said anyone can join him on the day.
He said: "Hopefully we can create a lot of spirit and raise awareness for this beautiful charity."