Farm burglary shooting near Welby: Police given more time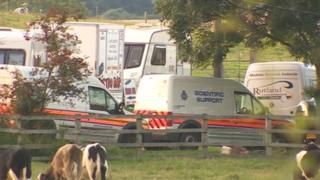 Police have been given more time to question a householder and his wife who were arrested after a gun was fired at suspected burglars.
Officers were called to a farm near Welby, Leicestershire, on Sunday by a man who said he had fired a legally-held shotgun at a group of intruders.
He and his wife are being questioned along with the four alleged burglars.
The two shot men were treated in hospital for non-life-threatening injuries and one has been discharged.
Police arrived at the house near the small village in the Melton Mowbray area at 00:26 BST on Sunday.
Arrested at hospital
The man aged 35 and his wife, 43, were arrested on suspicion of causing grievous bodily harm after the householder told officers he had fired a shotgun and the intruders had left the scene.
Four men, aged 23, 27, 31 and 33, were then arrested at Leicester Royal Infirmary on suspicion of aggravated burglary.
The 33-year-old man is now in police custody after being discharged while a 27-year-old remains in hospital.
Police are continuing to question all six people after being granted an extension by magistrates.