Leicester Cathedral gardens revamp plans unveiled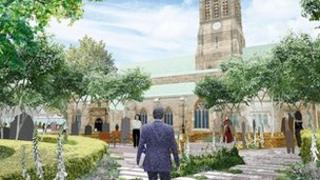 Plans have been unveiled for a £3m garden at Leicester Cathedral.
Church leaders want the garden to be used by visitors as a place to relax, but also hope to stage events, services and performances there.
The scheme includes the reintegration of the Guildhall into the area by the partial removal of a wall which blocks access to the visitor centre.
Half the money will come from the city council, while Church authorities said they would raise the rest.
The plans are to create a series of more "intimate" garden spaces, hedged enclosures and pathways.
Pete Hobson, one of the team behind the plans, promised they would respect the ancient layout of the area.
"When people inspect the plans they will see we have done our history and our homework.
"The plans that we do have mean that when we do need to change something it is well thought out," he said.
Once planning permission has been gained and the money raised, it is hoped work can begin at some point in the middle of next year, with completion scheduled for the first half of 2014.