David Parsons faces action over more European travel claims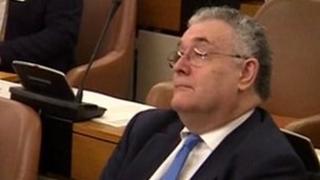 The former leader of Leicestershire County Council who resigned in a row over travel expenses is being asked to pay back more money for European trips.
David Parsons stood down in July after it was found he had broken the councillors code of conduct over his travel expenses.
It found he did not promptly repay expenses for official trips to Brussels.
The authority said he now owes more money for trips between 2006 and 2011.
In June, the council's standards committee censured Mr Parsons over an independent report which found he had delayed repaying money to a body called East Midlands Councils (EMC).
Mr Parsons, who has since repaid all of the money highlighted in the report, is yet to comment on the latest findings, which will be discussed at a council meeting on Monday.
He had previously apologised to the committee and said he took full responsibility for his behaviour.