Thomas Connors, 22, jailed for causing deaths of two Leicestershire women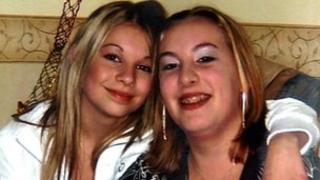 A 22-year-old West Yorkshire man has been jailed for nine months for causing the deaths of two Leicestershire women in a road accident.
Jade Srawley and Amelia Ecob, both 20 and from Battram, died in a four-car collision on Bagworth Road in Barlestone on 27 January 2011.
Thomas Henry Connors, of Bradford, pleaded guilty to two charges of causing death by careless driving.
Connors was driving one of the cars but fled the scene of the crash.
Memorial garden
In June, hundreds of people attended the opening of a memorial garden dedicated to the two women in Battram.
Miss Srawley was driving one of the cars and died at the scene of the accident, while her friend Miss Ecob was taken to hospital but died later.
Leicestershire Police arrested three men after the accident but were unable to prove who was driving the car.
Connors was called as a witness at the inquests into the two deaths and admitted being the driver.
He was arrested, charged and later pleaded guilty to the two charges at Leicester Crown Court.