Leicestershire County Council: Rushton elected as new leader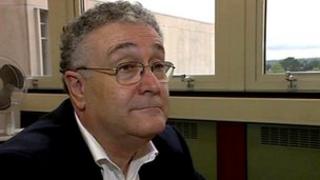 Leicestershire County Council's former deputy leader has officially taken over the authority's top post following the resignation of the previous leader.
Conservative councillor Nick Rushton had been acting leader since the resignation of David Parsons in July.
Mr Parsons, who remains a councillor, stood down as leader after a row about travel expenses.
Mr Rushton said the council would have a "more collegiate administration" under his leadership.
Chauffeur-driven car
Mr Parsons was facing a vote of no confidence from his own Conservative group and decided to step down on 3 July after nine years in the post.
In June the council's standards committee censured Mr Parsons over an independent report which found he had delayed repaying money to the East Midlands Councils (EMC).
It had initially paid for official trips to the continent, but the EU then paid Mr Parsons directly.
It was also alleged that Mr Parsons used the council's chauffeur-driven car to attend private functions.
Mr Rushton vowed to work more closely with other political parties on the council.
"I am determined that, under my leadership, we will collectively - members and officers - repair the damage to working relationships and the county council's reputation brought about by events surrounding the former leader."
Mr Rushton was elected at a full council meeting on Wednesday.