RF Brookes factory in South Wigston to close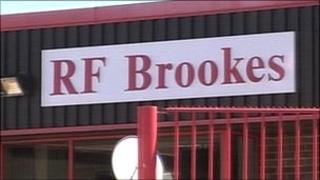 A Leicestershire bakery is set to close with the loss of 200 remaining jobs.
Hundreds of jobs have already gone from RF Brookes in South Wigston since it lost a major contract and was then sold to the 2 Sisters Food Group.
Managers have now said the site was not financially sustainable, and have launched a 90-day consultation with staff.
A union spokesman said experienced workers faced being "thrown on the scrap heap".
The factory, which produces pizzas and pies, has seen a number of strikes over redundancy packages.
Production moved
Tony Lewis, a local member of the Bakers Food and Allied Workers Union, said the news was devastating.
"This is bad news for the workers but it is also bad news for Wigston and Leicestershire.
"Some people have worked there for 25, even 30 years, and they are being thrown on the scrap heap, because jobs are scarce. It is just sad."
Much of the production has been moved to Nottingham.
RF Brookes, which had 720 employees before the layoffs, lost a major contract to supply pies to Marks & Spencer in June 2011, prior to the takeover.