Jobs under threat at Coalville car parts firm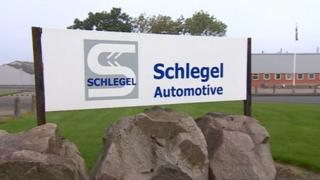 A Leicestershire automotive parts firm is set to lay off hundreds of jobs after being hit by a downturn in trade.
More than 200 employees at Schlegel Automotive Europe in Coalville are now at risk of redundancy, a Unite union spokesman said.
The firm called in administrators Springfield Business Recovery to try to find a buyer for the business.
Unite spokesman Harish Patel said the layoffs were caused by the loss of a contract with Japanese carmaker Nissan.
The firm, formed in 1885 and taken over by India-based Ruia Group in 2008, employs about 350 workers at its plant in Coalville.
Schlegel produces a wide range of rubber sealant products for vehicles.
Roe Haywood, who works for the firm but is not being made redundant, said his colleagues were devastated.
"There were a lot of tears going around the shop floor," he said.
"The average age of the people that are gone, I think, is between 45 and 50 and it will be very difficult for them to get work."
A Springfield spokesman said: "The appointment of the administrator became necessary due to instability in the business and financial position, causing a significant downturn in trade and the consequential impact on cash flow."
Mr Patel said the union would work to save as many jobs as possible and ensure workers get the best redundancy package.
The remaining workers will be kept on until existing contracts are filled.