Leicestershire war memorial bronze statues installed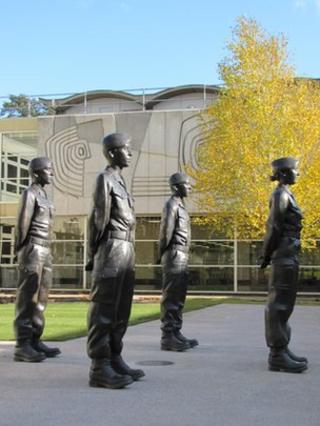 Four, life-size, bronze statues have been installed in Leicestershire as part of a memorial to the county's armed forces.
Leicestershire County Council said it showed young army, navy and RAF recruits in a military drill.
The £75,000 tribute called "Stand Easy" is due to be officially unveiled at a dedication ceremony on 9th November.
Glasgow-based sculptor Kenny Hunter took plaster casts of seven trainee soldiers' faces for the design.
Mr Hunter worked with armed forces recruits at Welbeck Defence College at Loughborough University to create the memorial.
The council said said benches, a flag, and shrubbery would be added to complete the memorial at County Hall which also featured a plaque and crossed paths.
Peter Roffey, from the Royal British Legion, said: "It is a fitting tribute to Leicestershire's heroes who make the ultimate sacrifice in conflicts since 1945."