Burglary gang posed as police to fool victims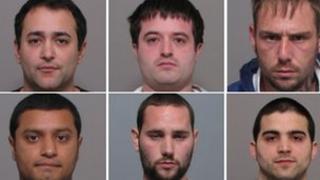 A group of burglars who posed as police officers to steal cash, jewellery and electronic gadgets have been jailed.
The men targeted homes and businesses in Leicester, Northamptonshire and Nottingham over an eight-month period.
They would claim to be investigating a range of offences before tying victims up and threatening them with arrest if they did not co-operate.
Five men have now been jailed and another man given a suspended sentence after pleading guilty to the scam.
Leicester Crown Court heard the gang carried out seven burglaries between September 2009 and May 2010.
'Terrified victims'
On arrival, the men would present bogus ID cards and say they were investigating drugs, illegal immigration, tax and firearms offences.
Victims were usually tied up and threatened with arrest if they did not comply. In one case, a man had a box put on his head and was warned he could be shot.
The men would then steal large quantities of cash, jewellery and electronic goods, accumulating a haul worth more than £200,000 by the end of the spree.
Police tracked down members of the group over four months after noticing similarities between the seven raids.
Steven Nutting, 31, from Leicester, has now been jailed for six-and-a-half years after pleading guilty to burglary.
Wayne Vakani, 31, from Loughborough, Ibrahami Razak, 29, from Leicester and Benjamin Chisholm, 29, from Markfield, Leicestershire, were handed sentences between five and eight years after admitting the same offence at an earlier hearing at Northampton Crown Court.
Shraine Tumber, 30, from Leicester, was given a 12-month suspended sentence after admitting burglary at the same hearing.
Det Con Gary Dickinson said: "These men carried out offences which terrified the victims involved, who at the time believed they had nowhere to turn.
"Although the offenders tried to appear professional, with false identification cards, stab vests and hand-held radios, the victims soon realised they were not who they said they were.
"They then immediately called police and worked with us to locate them. It's through the actions of those victims we have been able to get the results we have seen today."