Martin Hickin fatal air crash report blames sun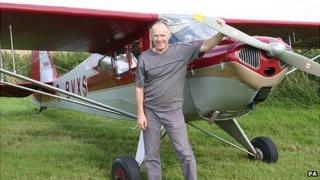 A pilot who collided with another aircraft causing a fatal dive may not have seen him because of the sun, an accident report has found.
Martin Hickin, 55, from Coalville, died after his light aircraft hit another and came down close to Leicester Airport on 18 December last year.
The 48-year-old pilot of the other aircraft managed to land and was uninjured.
Mr Hickin's aircraft went into a near vertical dive and he was killed.
In a statement, Mr Hickin's family said: "We are relieved that the two people in the other plane survived this horrific mid-air collision and know that Martin would be too."
'Lack of contrast'
The aircraft collided at about 14:00 GMT, when the sun was 10 degrees above the horizon.
This meant the uninjured pilot, flying at 110mph and at a height of 1,000ft (300m), was flying almost directly into the sun.
The report from the Air Accidents Investigation Branch (AAIB) said this would have made it difficult for him to see Mr Hickin's Taylorcraft BC12D.
There would have been a "lack of contrast" between Mr Hickin's aircraft and the surrounding countryside, the report said.
The AAIB added: "The two aircraft collided because their respective pilots either did not see the other aircraft or did not see it in time to take effective action."
The report said the 48-year-old pilot "heard a loud bang, the aircraft 'shuddered' and the propeller stopped".
'Did not recover'
The report went on: "His initial thought was that the engine had 'exploded'.
"However, on asking his passenger 'What was that?' the passenger replied 'Aircraft'."
The AAIB said that the pilot transmitted a Mayday call and looked for a suitable place to land his aerobatic Pitts Special aircraft.
Meanwhile, witnesses saw Mr Hickin's aircraft "in a near vertical dive from which it did not recover".
He was found in the wreckage of his plane, and was pronounced dead from his injuries by paramedics shortly after they arrived.
His family said he was an experienced pilot who had loved flying since his youth.
They said he had been a civilian glider pilot instructor for the RAF in his 20s.