Leicestershire police commissioner candidates to 'act for people'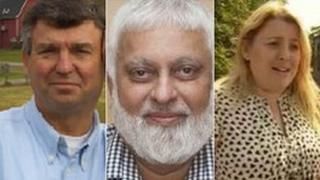 Police and crime commissioner candidates in Leicestershire have promised to put politics aside and act in the best interests of the people.
During a debate on BBC Radio Leicestershire they were asked about their plans, if elected on 15 November.
PCCs will represent 41 forces in England and Wales and will be responsible for setting priorities and overseeing budgets.
They will also have the power to hire and fire chief constables.
'Family friendly'
Conservative Sir Clive Loader, a retired RAF serviceman who spent 30 years with the force, said: "I'm very clear that whoever is elected will be the PCC for everybody.
"Not just the people that voted for him or her - so just like an MP, woe betide anyone who takes less seriously a letter from someone who didn't vote for them.
"My boss will not be in London, it will be the people of Leicestershire and Rutland."
He also said he was "determined to help make our streets safer and much more family friendly".
Suleman Nagdi, a former member of the Rhodesian Army and magistrate, said: "I am standing on the principle that the independence of the police is crucial - our legal system is independent and I remain independent.
"There is a general feeling that an independent person will be better suited for this.
"It's nothing personal against the other candidates - it's simply that independence in the police, I feel, is absolutely crucial."
Mr Nagdi also said he would "fight the scourge of anti-social behaviour".
'Visible' teams
Sarah Russell, a Leicester city councillor since 2007, said: "For me, standing as a Labour Party candidate is about the values I'll use on a day-to-day basis to make decisions.
"Values of social justice, looking after our communities, protecting the most vulnerable people in society.
"It isn't about taking orders from Westminster or from the city council, or anywhere else - it's about those values," she said.
She also pledged to have visible local teams that know their patch and respond to local peoples' priorities.
The Leicestershire force has more than 2,300 police officers and more than 1,200 police staff.