Leicestershire war memorial bronze statues are unveiled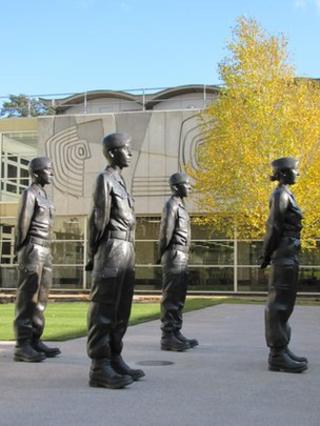 Four, life-size, bronze statues have been unveiled by a government minister as part of a memorial to Leicestershire's armed forces.
The £75,000 tribute, commissioned by the county council, was opened by Armed Forces Minister Andrew Robathan MP at County Hall on Friday.
Glasgow-based sculptor Kenny Hunter created the piece, called "Stand Easy", with the help of forces recruits.
The installation shows young recruits from the army, navy and RAF.
Mr Hunter worked with armed forces recruits at Welbeck Defence College at Loughborough University to create the memorial.
He created plaster casts of seven trainee soldiers' faces for the design.