Ponnuthurai Nimalaraja: Youth denies manslaughter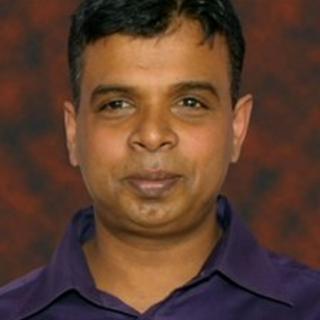 A shop assistant died after being knocked over by a punch from a 14-year-old boy, a court has heard.
Ponnuthurai Nimalaraja, 41, known as Nimal, fell to the ground and hit his head on the kerb on 9 June at Gypsy Lane, Leicester.
At Derby Crown Court the boy, who is now 15 and cannot be named, denied a charge of manslaughter.
He said he was acting in self-defence after the victim picked up a piece of wood to attack him.
Mr Nimalaraja, who worked at the Leicester Stores, died in hospital after being punched to the ground during an altercation with youths near the shop at the junction of Gypsy Lane and Northfield Road.
The court heard Mr Nimalaraja dragged the boy by the throat and the wrist, and when he picked up a piece of wood, the defendant punched him to get away.
The prosecution said the teenager was part of a gang and had taken part in a series of anti-social behaviour incidents at the shop, pulling down shutters, being aggressive, and looking for fights.
It also said the issue was not whether the defendant punching him caused injury that led to his death, but whether his actions were self-defence.
The trial continues.