Ponnuthurai Nimalaraja: Youth guilty of manslaughter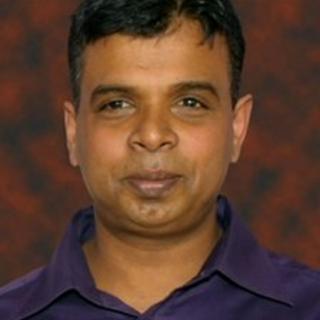 A 15-year-old boy who punched a Leicester shop assistant has been convicted of his manslaughter.
Ponnuthurai Nimalaraja, known as Nimal, fell to the ground and hit his head on the kerb on 9 June at Gypsy Lane.
Mr Nimalaraja, 41, who helped out at the Leicester Stores, died in hospital a week after the attack near the shop.
The teenager, who was 14 at the time of the attack, cannot be named. He will be sentenced at Derby Crown Court at a later date.
'Desperately sad case'
The boy had claimed he was acting in self-defence after accusing Mr Nimalaraja of picking up a piece of wood to attack him during an altercation with youths at the junction of Gypsy Lane and Northfield Road.
But the prosecution said the teenager was part of a gang and had been involved anti-social behaviour at the shop, pulling down shutters, being aggressive and looking for fights.
Summing up, Judge John Burgess said: "Any case like this is desperately sad."
Speaking after the case, Det Supt Matt Hewson from Leicestershire Police said the "positive outcome is justice for Nimal and justice for his family left behind".
He added: "This is an extremely sad case, where something that started from the misbehaviour of a group of teenagers ended up with the loss of a much loved husband and father."