Launderette owner jailed over money laundering scam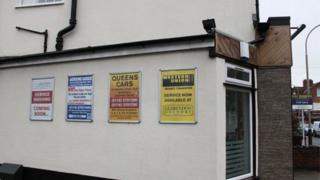 A launderette owner has been jailed for his part in a fraud and money laundering scam.
Basharat Sajawal, from Leicester, was one of four men to be sentenced over the £750,000 VAT fraud.
HM Revenue and Customs described him as a "money mule" who physically moved the cash between others involved.
The 39-year-old, of South Knighton Road, has been given a nine-month sentence after pleading guilty to conspiracy to cheat the public revenue.
Judge Paul Worsley QC, sentencing Sajawal at the Old Bailey, said: "You were a shadowy influence who fell to the lure of easy money."
Martin Brown, assistant director of criminal investigation for HMRC, said the scam was a "major conspiracy" designed to steal money from the economy and taxpayer.
"The gang designed the fraud with various layers in an attempt to conceal the crime and avoid detection," he said.
Fake invoices
Karnail Singh Jammu, 57, of Warren Hill, Newtown Linford, Leicestershire, was sentenced to four months in prison after pleading guilty to conspiracy to money launder.
He ran a textile business and received the largest part of the money from the scam, which involved submitting false VAT returns and fake invoices to HMRC.
Nicholas Prasad fronted a fictitious engineering business while Hemant Chauhan fronted a fictitious courier service.
They set up the companies to get VAT registration numbers, which were used to make the false claims.
Chauhan, 46, of Braybrooke Road, Leicester, was sentenced to three months in prison, suspended for two years, after pleading guilty to conspiracy to cheat the public revenue.
Prasad, 23, of Coles Green Road, north-west London, was sentenced to six-and-a-half months in prison after pleading guilty to the same charge.