East Midlands derailment: Normal timetable to resume on New Year's Day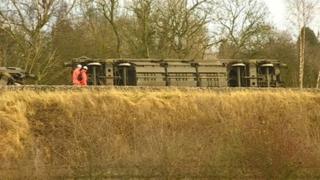 Late night trains between London and the East Midlands are expected to return to normal on New Year's Day.
A revised timetable was operating after a freight train overturned in Leicestershire on Thursday, blocking the track next to the Midland Mainline.
Services to the capital from Nottingham after 23:00 GMT were cancelled or only ran from Leicester and trains between Leicester and Lincoln were affected.
Trains are still not stopping at Barrow-upon-Soar.
'Complex job'
A landslip caused by heavy rain made the freight train tip over, blocking two tracks which run adjacent to the line between Nottingham and London.
Network Rail worked overnight to remove the wagons, which were carrying 1,000 tonnes of quarry stone.
Normal service resumed at 11:00 GMT on Tuesday.
It is not known how long it will take to carry out track repairs, which are due to start on Saturday, and services to Barrow-upon-Soar will not restart until they are complete.
Martin Frobisher, from Network Rail, said: "Removing the wagons safely is a complex job and this location is not easily accessible, all of which has added to the time it has taken to complete.
"We have deliberately worked through the night in order to minimise the effect upon passengers and expect to complete the removal of the wagons on Saturday night.
"Final repairs to the track and embankment will then be completed as quickly as possible."
Full details of the service alterations are available on the East Midlands' Trains website.