Moghul Durbar Leicester restaurant attack 'not about religion'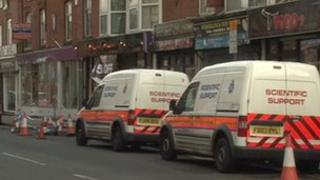 An attack on a restaurant by a large group of men was not fuelled by religious issues, police said.
The gang ransacked Moghul Durbar in Leicester on Monday evening, injuring a number of people.
Ch Supt Rob Nixon said false rumours circulated on social networking sites preceded the attack, which is not being treated as faith-based.
Detectives have been working with Sikh and Muslim groups in the city to allay fears.
'Community co-operation'
The group attacked the restaurant in East Park Road on Monday evening, injuring staff and customers.
Six people were taken to Leicester Royal Infirmary where three men remain in stable conditions.
Shortly after the violence, six men were arrested. A seventh was held on Wednesday.
Mr Nixon, the city's police commander, said: "We are not treating this as a faith-on-faith issue, we are treating this as a crime.
"We are linking in with all of the communities and we are getting the co-operation and information that's coming from across a wide cross section of different faith communities.
"This is a serious incident and we are appealing for support in investigating it."