Moghul Durbar restaurant: Seventh man charged over attack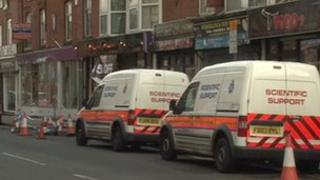 Police have charged a seventh man in connection with an attack on a restaurant.
The 26-year-old man was charged with conspiracy to commit violent disorder. He was due to appear before magistrates on Saturday.
Six other men were remanded on Friday after appearing on the same charge.
Officers said a large group smashed the windows of the Moghul Durbar restaurant in East Park Road in Leicester on Monday night.
A number of people were assaulted and others were injured, officers said.