Leicester's Abbey Mills building to be renovated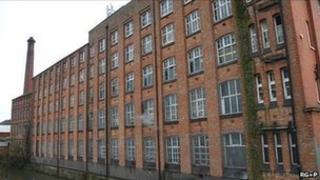 A Victorian spinning mill that had been earmarked for demolition is to become an £8.75m care facility in Leicester.
Proposals to flatten the Abbey Mills building, in Abbey Park Lane, were submitted in 2011 to make way for affordable housing.
But it has been saved and will be renovated and converted to accommodation for vulnerable adults.
Leicester City Council will provide £750,000 with the majority of costs met by Asra Housing group.
'Much needed accommodation'
The 19th Century building was a spinning mill making stockings for the country and reaching nation-wide fame when it provided Captain Scott his clothing for his attempt to reach the South Pole.
Assistant Mayor Rita Patel said: "This redevelopment will provide much needed supported living accommodation.
"It will also be preserving an important building in Leicester's architectural heritage."
The proposal to demolish the mill was met with opposition from the Civic Society who said losing it would be "totally unacceptable".
Leicester Civic Society's chair, Stuart Bailey, had said the building on the Grand Union Canal was an important reminder of Leicester's heritage.
Asra, which already runs the neighbouring Wolsey facility, will manage the new centre.