Moghul Durbar restaurant: Two more men arrested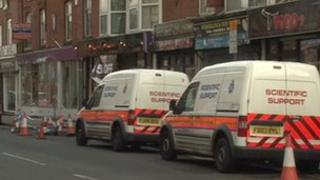 Two more men have been arrested in connection with a violent attack on a Leicester restaurant.
A 73-year-old and a 31-year-old were arrested on Wednesday after a large group ransacked the Moghul Durbar restaurant in East Park Road leaving several staff and diners injured.
They remain in police custody where they are being questioned.
A further seven men have been charged and will appear before Leicester Crown Court on Friday.
The restaurant was attacked on 14 January when the windows were smashed and several people were assaulted.
Six people had to be taken to Leicester Royal Infirmary for treatment for both minor and serious injuries.