Welby farm shooting: Fourth man charged over burglary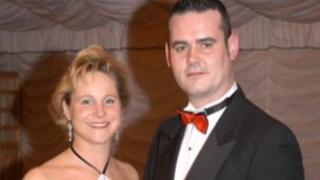 A fourth man has been charged in connection with a break-in at a farm in Leicestershire in which two burglars were shot by a householder.
The 23-year-old is due to appear before magistrates in March. A 31-year-old man was charged with burglary in January.
Joshua O'Gorman, 27, and Daniel Mansell, 33, of Leicester, admitted burglary and were jailed for four years last year, at Leicester Crown Court.
Andy and Tracey Ferrie were arrested over the shooting, but later released.
Mr Ferrie opened fire on O'Gorman and Mansell when he and his wife Tracey found them in the kitchen of their cottage in Welby, near Melton Mowbray, Leicestershire on 2 September.
No legal action was taken against Mr and Mrs Ferrie.
The 23-year-old defendant is due to appear at Loughborough Magistrates' Court on 20 March, police said.