Leicester Forest East GP closure angers patients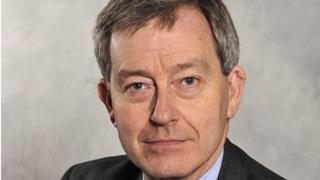 A Leicester GP surgery is closing, leaving thousands of patients without a doctor's surgery.
Hunters Lodge Medical Centre in Leicester Forest East, which had 3,200 registered users, is shutting as the GP who co-owns the site is retiring.
Some patients complained they were only given three weeks notice of the change and other surgeries were inconvenient.
NHS Leicester, Leicestershire and Rutland said they had written to those affected to offer alternatives.
The surgery closes on Thursday, a move which was only confirmed earlier in February.
Paul Fox, a parish councillor for the area and patient at Hunters Lodge for 20 years, felt there had not been enough information given out.
Failed negotiations
He said letters informing him of the two open information sessions arrived after they had happened.
Charnwood Conservative MP and chair of the Health Select Committee, Stephen Dorrell, felt NHS managers had let patients down.
He said: "One of the things you should always be concerned about is what happens if a doctor, for whatever reason, can't continue to deliver the service.
"What's the plan B? There doesn't every seem to have been a thought-through plan B to meet the needs of the people of Leicester Forest East."
The health trust's Lesley Harrison said negotiations to keep the centre open had failed in January.
She added that a list of 13 alternative surgeries had been included in letters to patients and those who had not re-registered would be contacted again.
"What we have said is that if the Hunter's Lodge premises becomes available at any time, we will explore the opportunity to be able to reopen a surgery within those premises.