Revamp planned for 'cramped' Leicester bus station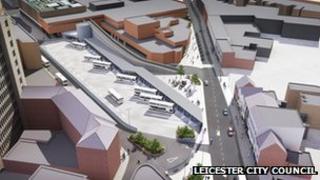 A £10.5m revamp is planned to expand facilities at Leicester's "cramped" bus station.
The work at Haymarket bus station will include 11 new bus stands at the Charles Street facility.
The city council also is bidding for an additional £3.5m in funding from the Department of Transport.
"The Charles Street station is a disgrace - it is not good enough because it's cramped and inconvenient," Mayor Sir Peter Soulsby said.
"It is just not good enough a modern city like Leicester.
"We have to make sure that travelling by bus to and from Leicester is a realistic and attractive choice."
A council spokesman said the project would "help ease bus congestion and queuing" at the station.
Several commercial buildings will be demolished to increase the size of the revamped station and public access will be improved.
The bus station is a base for 25 local bus services and is used by 20,000 people a day.