Inquiry into Lubbesthorpe new town plan rejected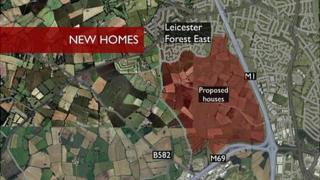 Plans to build more than 4,000 homes in Leicestershire will not go to a public inquiry.
Developers want to put 4,250 homes in the Lubbesthorpe area, along with three schools and areas for industrial units and local shops.
Blaby District Council has welcomed the government's decision and said two major consultations had been held.
Opponents said they were disappointed but would continue to challenge the plans over fears about air pollution.
Plans for the 973-acre development were first submitted by a consortium of developers, called the New Lubbesthorpe Promoters Group, in early 2011.
Residents and some politicians were against the plan, fearing it would overwhelm services and destroy agricultural land.
The government has written to Blaby District Council to confirm it will not be questioning the planning application, saying it did not conflict with national guidelines.
'Build a community'
Ernie White, leader of the council, said: "There were long, long periods of consultation and all the issues raised by protesters were addressed in the report to committee, which came to the right conclusion, in my view.
"There is a huge amount of work to do to deliver this huge decision in real terms.
"We are not going to just build an estate, we are going to build a community."
The council said further planning and legal work had to be done before New Lubbesthorpe Promoters Group submits detailed plans for each part of the development over a number of years.
Paul Fox, from the Leicester Forest East Residents Action Group, said: "We tried to make our voice heard, we had a lot of representation.
"But when you look at the number of people who objected, and the percentage of people who commented, clearly the council took nothing on board whatsoever."
Mr Fox added residents would keep a close eye on the plans to make sure promises about community facilities were fulfilled and air quality was not affected by more traffic.