Leicester's Phoenix Square cinema to host dental school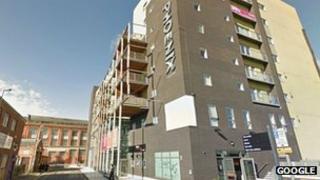 A private dental school is to open in Leicester in September - in a cinema.
The Leicester Dental Teaching Academy, validated by the University of Buckingham, will teach students this year at the Phoenix.
The school said the first few years would be academic and a dedicated centre will be built next door specifically to teach treatment.
The Phoenix, owned by the city council, said it was a commercial venture and would not interfere with the arts.
Arts funding cut
The school will charge £176,000 for a five year course, ending with a degree in dentistry from the University of Buckingham.
John Rance, Phoenix chief executive, said: "I think everybody will be aware that public funding for arts has been cut in many places.
"We are working very hard with our stakeholders, particularly the city council, to manage the reduction of our grant."
He added that this was an opportunity to rent out some of its space and that it would not interfere with any films or arts projects.
Professor Stuart Morganstein, dean of dentistry, said the school will need volunteers to receive treatment from final year students and Leicester was the perfect size and demographic to draw potential patients.