Catherine Junior School to be rebuilt after fire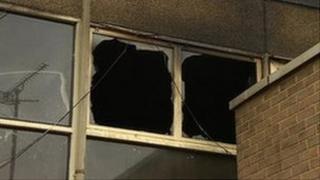 A Leicester school which was damaged in a fire is to get a £3.5m rebuild.
Builders accidentally started the blaze in the gym at Catherine Junior School in October 2012. The fire caused asbestos to be released from the roof.
Since then, the school's 380 pupils have been taught in temporary buildings constructed on the playing fields of nearby Abbey Primary.
Headteacher Joy Denning said she looked forward to using the new school, due to be finished in April 2014.
She added: "We were a bit concerned it might just be a renovation job. The staff are really pleased."
Teething troubles
She said pupils had coped well with learning in the temporary buildings.
"There were a few teething troubles," she said. "Abbey Primary is a really nice place to be but we do want to go back to our own site."
Leicester City Council's assistant mayor Vi Dempster said the council had received £2.4m in insurance to cover the cost of repairs to the school.
She said: "We felt the best option was to find the extra money to strip the original structure back to its steel frame and rebuild completely."
Ms Dempster said the new school on the on Brandon Street site would be an improvement on the previous "not very nice" building.
The extra money will come from the council's schools building fund.