Leicestershire County Council staff parking 'poses danger'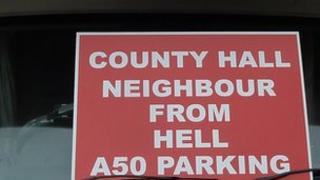 People who live along the A50 in Leicester have said the council are "neighbours from hell" because its staff park outside their homes.
The residents, who live opposite County Hall, have begun a petition to ask Leicestershire County Council to make the area a no-parking zone.
They claim the parked cars block their view as they reverse out of their driveways to join the 50mph road.
The council said they hoped to bring in parking restrictions.
But residents said the proposals did not go far enough.
Way out of hand
Some residents have stuck posters in their windows that read: "County Hall - neighbour from hell".
Peter Oliver, who has lived on the A50, at Glenfield, for 28 years said: "It's very dangerous. The situation has got way out of hand. If it carries on like this, somebody is going to be killed."
He said the problem started three years ago when the authority decided to move its staff from other offices to County Hall to save money.
The council plans to build 165 spaces in its car park, which should be ready for June.
However, Mr Oliver said that would only take the number of spaces up to 1,565 and there are 3,000 employees.
Mark Stevens, the council's assistant director for highways, said building work had temporarily reduced the number of spaces in the staff car park.
He said: "Part of the problem is the car park at County Hall is pretty much at capacity. At the moment, a number of people are having to park outside."
He said the council were looking at regulations to introduce a two-hour maximum parking restriction on the road.