Leicestershire fire service defends 9% tax rise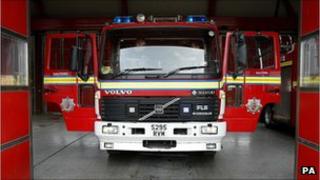 A 9% rise in part of Leicestershire's council tax has been defended by the organisation responsible.
The fire and rescue service insisted the increase, more than three times the rate of inflation, was needed to support services.
It also denied resources had been wasted on a major station refurbishment programme.
Chris Argent, from the Fire Brigades Union (FBU), said he was not surprised by the rise but it was "still cheap".
'Crewing systems'
Trevor Peel, director of finance at Leicestershire Fire and Rescue, said that after freezing their share last year, pressures had grown.
He said: "We've lost £1.6m of government funding and the freeze itself has cost just shy of £1m for the fire authority.
"With the requirements to make further savings in the future, another £2.5m next year and a further £2m the following two years, it adds up to why we needed to do the investments."
Mr Peel defended spending money on capital building projects and refurbishments at stations.
He said: "Without the refurbishments we cannot introduce new crewing systems, which saves on each fire station."
Mr Argent said: "We're not surprised there's a need for more money due to [the building of] new stations and headquarters.
"Our main concern is firefighters and the workforce. Some watches are running below strength.
"I wouldn't say [the money is] going into the wrong areas but we have questions of where is it going? What it's being spent on?"
However, Mr Argent said the rise, which works out as £5 for a council tax band b in a year, is cheaper than a lot of fire service authorities in other areas of the country.