Neighbour abuse: Ethel Watkins, 83, sentenced for taunts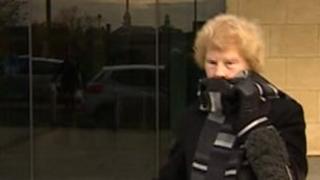 A grandmother convicted of abusing a family who moved in next door has been handed a suspended sentence.
Ethel Watkins, 83, of Melton Mowbray, breached a five-year restraining order banning her from contacting neighbours after a sustained hate campaign.
At Loughborough Magistrates' Court the great-grandmother was sentenced to 26 weeks in prison, suspended for two years.
Police said it was one of the worse harassment cases they had dealt with.
At a hearing in summer 2012, Watkins admitted carrying out a hate campaign against the family-of-four, who cannot be named for legal reasons.
An order was imposed banning her from contacting them again but magistrates were told she verbally abused her victims again the following day.
Verbal abuse
The court heard Watkins would shout abuse at the family's two young children calling them "vulture, scum and hooligan". She also often made vomiting noises when she saw them.
Their father, an army sergeant major, said he had turned down a posting to Afghanistan because he feared for the safety of his family.
His wife told the court in a written statement: "It affected my day-to-day life, my marriage, my parenting skills.
"At one point I thought the police would take my children away."
The family now live in Cyprus.
PC Chris Perry from the Melton Policing Unit said it was an unusual case.
"It is very uncommon for us to come across someone of this age in custody for committing this sort of offence," he said.
"The family moved into the area to start a new life and unfortunately the lady wouldn't allow them to live the quiet life they wanted.
"She used nasty terminology and the abuse was intended to make them feel worthless. We can only hazard guesses as to her motives but we may never find out."