Bradgate mental health unit gets new £5m ward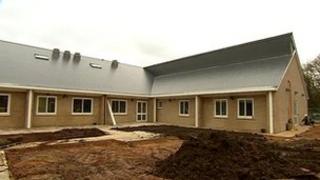 A new £5m ward for mental health patients in Leicester is being unveiled in an official naming ceremony.
The Watermead Ward is to be part of the Bradgate Unit at Glenfield Hospital, which is part of a wider £23m project.
It will house single en-suite rooms and will have a family visiting room where children can see their parents who may be on the ward.
The unit has faced criticism following three cases in the past year where patients killed themselves.
In June, Sally Ann Vye, 39, from Melton Mowbray, ran away from the mental health unit and took her own life at Beachy Head the next day.
Centre of Excellence
Leicestershire Partnership NHS Trust accepted the coroner's verdict that Ms Vye was not properly observed in accordance with her needs.
John Short, chief executive of the Leicestershire Partnership NHS Trust, said: "We've been very open and honest with patients when mistakes have been made in the past. This is a serious improvement in the relation to the facilities.
"[What we had before] met basic standards and the Care Quality Commissioner recently visited us again and said we had achieved the standards in relation to privacy and dignity."
Leicestershire Partnership NHS Trust said the ward was part of a plan to create a £23m Centre of Excellence by 2015.
The ward was named by a member of staff after a competition and will open fully next month.